1525 Broadway Downtown Detroit Apartments
Full-Floor One-, Two- and Three-Bedrooms in a Grand Location
Welcome to the 1525 Broadway one-, two- and three-bedroom full-floor apartments in downtown Detroit. The historic building's contemporary apartments present a spacious industrial loft look and feel, each featuring an open floor plan with tall ceilings, exposed ductwork and concrete floors. Wall-to-wall windows and central air conditioning make the space radiant and comfortable while a stacked washer/dryer and stainless-steel appliances add simplicity and style. Special spaces for storage include walk-in closets with built-in shelving.
1525 Broadway stands just a block from the Grand Circus Park greenspace and right around the corner from the Parker's Alley restaurants and shops. Endless entertainment venues, many major employers and several city parks surround the residential building.
Access to two nearby private fitness centers – at The Stott and COR Wellness Center – and proximity to parking garages offer continuing convenience, so 1525 Broadway residents can keep up with the downtown lifestyle. 1525 Broadway is ideal for all-around access to desirable Detroit life, work and fun.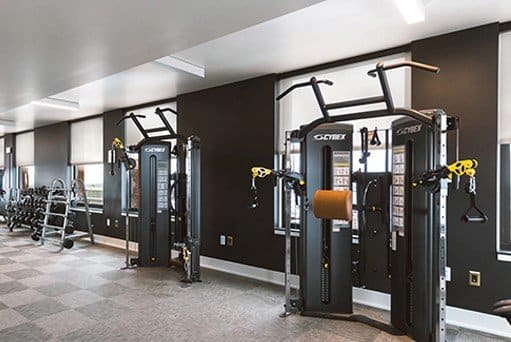 Fitness Center Access
Taking the work out of finding a place to work out, every 1525 Broadway resident receives access to the nearby state-of-the-art fitness center on the 35th floor of The Stott. Along with inspiring city views, the always-open space features treadmills, stationary bikes, weight equipment and a yoga studio to accommodate residents' personal routines.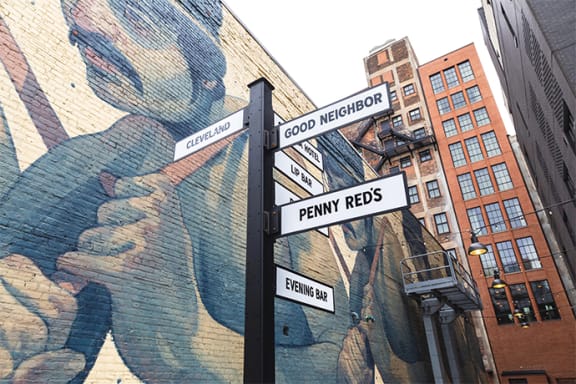 Parker's Alley
Right around the corner from 1525 Broadway is the Parker's Alley pedestrian passway, lined with dining and shopping options for all tastes and styles. The locally focused restaurants and shops span the entire block down to the boutique Shinola Hotel. Favorites for food include Penny Red's fried-chicken pickup, Huddle soft-serve stand and Madcap coffeehouse.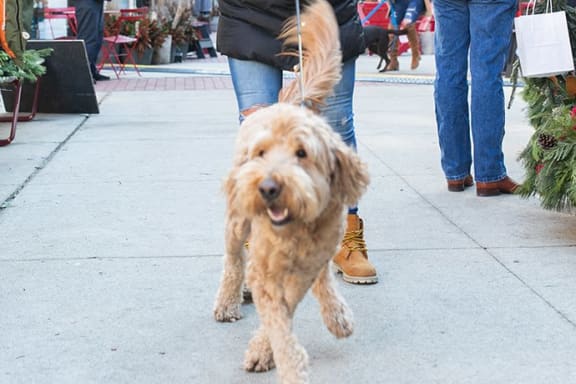 Pet-Friendly Perks
Pets are welcome roommates for 1525 Broadway residents. Exercising your dog is a walk in the park, with a dog park right outside your door. Just a few blocks away, you and your pet can shop at a locally owned store that specializes in supplies for city-dwelling dogs and cats.
Stylish Touches
The 1525 Broadway one-, two- and three-bedroom full-floor apartments feature big windows, tall ceilings and central air conditioning, all to create a comfortable, light and airy atmosphere. Contemporary conveniences include a stacked washer/dryer, stainless-steel appliances and walk-in closets. Modern materials appear in hardwood floors, oak cabinets and frosted-glass windows.
Specify Your Space
If you're searching for a spacious one-, two- or three-bedroom apartment in downtown Detroit, 1525 Broadway offers full-floor apartments with open loft-style layouts that invite you to make the space your own.
You're Right at Home in Downtown Detroit
1525 Broadway is centrally located in the city's lively Grand Circus Park Historic District. Find food and drinks, see games and shows, browse shops and art, stroll parks and trails – all right outside your door. Many major employers are within blocks while offices and colleges are a quick QLINE or People Mover commute from home. 1525 Broadway makes it convenient to live, work and play in desirable downtown Detroit.
Annual Activities
Living at 1525 Broadway puts residents front and center at some crowd-drawing annual events in downtown Detroit. America's Thanksgiving Parade – famous for its festive, family-friendly floats – travels along Woodward Avenue and is televised live from the corner of Grand River Avenue, just beyond your windows. Just blocks away, Fourth of July fireworks launch from the Detroit River and light up the sky even beyond your building. Without leaving home on Labor Day Weekend, you can take a listen and groove to the music of the Detroit Jazz Festival held at nearby Campus Martius Park and Hart Plaza.
THE MAY ONCE SERVED AS CLEVELAND'S LANDMARK SHOPPING CENTER, LOCATED IN THE HEART OF THE CITY'S RETAIL DISTRICT IN PUBLIC SQUARE.
Standing 149 feet tall and spanning 880,000 square feet, it was the third-largest department store in the country. It carved out a lane as a destination for fashionistas who wanted to shop at the trendiest stores from the hottest designers. For decades, The May was home to some of the biggest fashion shows in the Midwest, hosted by world-renowned brands including Vogue Magazine and Oscar de la Renta.
Despite the building's continual transformation – including multiple renovations, additions and upgrades – its roots in fashion and art still run deep. Today, more than 120 years after first opening its doors, The May is home to the newest downtown Cleveland apartments.
Contact Us
Send us a message to ask specific questions and request more information about the 1525 Broadway one-, two- and three-bedroom full-floor apartments in the Grand Circus Park Historic District of downtown Detroit.